Projects
72 Upper Ground, SE1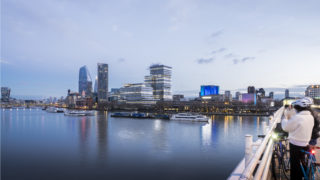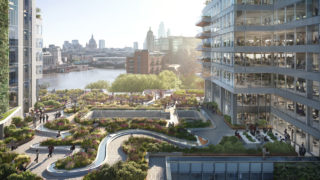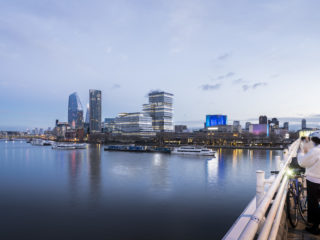 In March 2022, Lambeth Council resolved to grant planning permission to transform this dormant, closed-off 2.5 acre site into a new mixed-use development that provides high-quality workspace and new arts and cultural space that will be a great addition to London's famous South Bank.
Designed by Make Architects, 72 Upper Ground will bring investment, 4,000 new jobs, and crucially, it will benefit the whole community through affordable workspace that is tailored to the needs of Lambeth's emerging creative industries, as well as cultural venues, new cafes and restaurants and open, green spaces.
The all-electric scheme is targeting net zero carbon in operation along with the highest BREEAM and WELL certifications. The future wellbeing of office workers will be prioritised by extending the workspace outdoors with external terraces and balconies overlooking the Thames, which give greater access to fresh air and natural light.
The development will transform 40% of the site into public realm, opening up a currently closed-off site on the popular South Bank and adding two new public squares, an active ground floor and several public walkways. The design also includes a new public rooftop restaurant and terrace.
As new arts and culture innovation hub will introduce new creative opportunities such as immersive gallery and performance spaces, outdoor screenings and presentation spaces looking directly onto the river. These opportunities will all provide new jobs and skills for the local economy while integrating and complementing the existing offering along the South Bank. It has been tailored to the needs of emerging creative industries through an on-site residency programme with Lambeth-based organisations including Black Cultural Archives, Iconic Steps and Young Creators UK.
Planning scheme can be found here