Projects
247 Tottenham Court Road, W1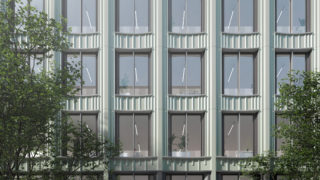 CO—RE on behalf of M&G Real Estate, has submitted an application for the redevelopment of 247 Tottenham Court Road. The mixed use scheme designed by Stiff and Trevillion architects will provide a new highly distinctive 60,000 sq ft office building together with 8 residential apartments, retail and ancillary uses.
Located in a dynamic and vibrant West End location, the area is set to benefit significantly from the opening of Crossrail, scheduled for 2022.
The scheme is designed to the highest environmental standards and has been rigorously appraised in terms of energy use, selection of low carbon materials and its future flexibility and performance over its full life cycle. With a strong focus on health and wellbeing the development will provide best in class facilities for its occupants, benefiting from light-filled flexible accommodation giving access to both private and communal terraces.