News
Occupiers optimistic in the face of Brexit, CO—RE survey shows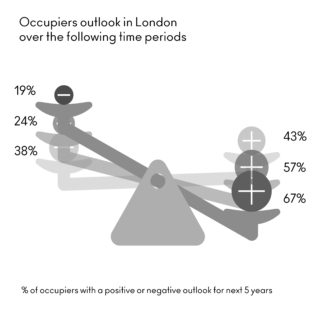 London's most influential tenants have given a vote of confidence in the London property market in the build-up to key votes on Brexit next week.
To start the year, London developers CO—RE, along with Make Architects, surveyed a select group of the most senior executives at London's biggest occupiers to find out their sentiment towards the market, as well as what they look for in commercial property.
The results showed that occupiers are broadly confident, with the outlook for London over the next 12 months more positive than negative (43% vs 38%). Over five years, it's overwhelmingly more positive (67% v 19%).
This was supported by the majority (54%) of those surveyed, who expect their company headcount to increase over next three to five years. However, at least one in five (21%) feared that their headcount will decrease in the next three to five years.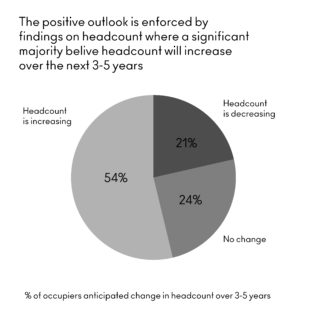 Overall, cost (62%), location (58%), and having close access to public transport (42%) were the top three considerations for occupiers when it comes to choosing an office. This was despite occupiers seeing the importance of location reducing over the next five years (38%) compared to the previous five years (48%).
Outside of these main considerations, an emerging trend is the importance of an office reflecting the firm's brand and values (30%), which was ranked higher than lease flexibility (25%) and sustainability (21%) and a host of other key features.
This was reflected in what is occupying the minds of the occupiers, with wellbeing, which 90% see as becoming more important, and the war for talent (81%) both being seen as the top factors influencing commercial property and decisions over new premises in the next five years.
Bradley Baker, director at CO—RE, commented: "It is clear from our research that occupiers are utilising their buildings to help them win the increasingly intense war for talent. It is pivotal that senior executives are now placing the opportunity to promote the importance of their brand and values being reflected in their workplace over and above lease flexibility and sustainability. Therefore, it is incumbent upon developers, architects and investors to lead the way to create buildings that brands demand, without neglecting the fundamentals of cost, location and efficiency for the end user."
Frank Filskow, partner of Make Architects, said: "In our socially dynamic and technologically enabled society, the nature of property and ownership are fundamentally changing. People must be kept at the heart of design, particularly workplace design. It's crucial for workers and employers alike that new office buildings respond to demands for improved wellbeing and corporate brand value. This ultimately allows business to be creative, efficient and, above all, compete in the war for talent."