News
CO—RE to move to new London HQ
The developer will be taking 2,500 sq ft at Fredericks Place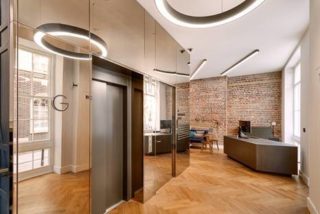 CO—RE, a central London developers, is moving to a new headquarters at 8 Fredericks Place in the City of London.
The developer will be taking 2,500 sq ft, comprising all of the first floor and most of the ground floor, of the recently renovated 18th century Robert Adam designed Georgian townhouse, comprising 10,000 sq ft.
Following a period of rapid growth, the move to a new headquarters will allow further expansion of the team. CO—RE has recently secured a number of significant project wins, including 20 Ropemaker, River Court and 247 Tottenham Court Road, and appointed key senior hires, including senior project manager Ed Thomson. It recently completed Bureau in Farringdon and One Fen Court in the City of London.
Owned by The Mercers' Company, Frederick's Place is located within the Guildhall Conservation Area near Bank and St Paul's Cathedral. 8 Frederick's Place forms part of a unique campus-style cluster of character buildings undergoing a £12m refurbishment by The Mercers' Company. Designed by John Robertson Architects, 30,000 sq ft of space is being transformed, combining the City's heritage with modern and progressive offices.
The Mercers' Company is also creating a new restaurant unit and separate coffeehouse as part of its investment. All works are due to be completed by the end of the year.
David Ainsworth, Chief Executive of CO—RE adds: "8, Fredericks Place perfectly captures the CO—RE ethos; creating world class commercial buildings that are well-located in central London and have cutting-edge design. We are excited about moving in and continuing to grow our business and deliver on our fantastic roster of projects."
Simon Taylor, Property Director at The Mercers' Company, commented: "The signing of such a recognised property development business as CO—RE as the first occupier is a great endorsement of the vision for Frederick's Place. The team has done a great job combining first-class modern office space with a great sense of character."
The firm will move to its new HQ from its current office on Cornhill in autumn 2019.
Knight Frank and Ingleby Trice acted for The Mercers' Company. CO—RE represented themselves.