News
Bradley Baker appointed Chief Executive of CO—RE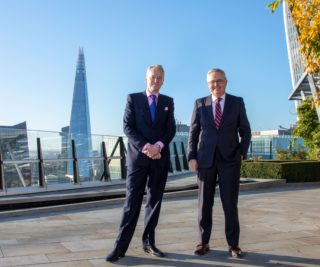 Bradley Baker has been appointed as the new Chief Executive of CO—RE after joining the London commercial development firm as director in March 2018. He succeeds David Ainsworth, a founding director of CO—RE who has been Chief Executive since 2014 and will retain an active role in the business as Executive Chairman. Chris Strickland, founding partner and former Chief Executive of CO—RE, is retiring from the role of Non-Executive Chairman.
Baker has worked in the central London office market for more than three decades. At
CO—RE he has brought his specialist knowledge of occupiers and their design requirements to some of the city's largest and most exciting new commercial developments.
He will now lead CO—RE following an exciting period that has seen it further grow its team and portfolio of projects whilst securing several high-profile lettings and planning consents:
In March 2020, construction started on Old Park Lane Management's 450,000 sq ft. scheme at 20 Ropemaker after 75% of the building was pre-let to law firm Linklaters.
In November 2020, Westminster City Council approved the major redevelopment of Lansdowne House, a premium 240,000 sq ft. office development on Berkeley Square, designed by AHMM.
In January 2021, CO—RE secured planning permission with M&G for The Fitzrovia, a 85,00 sq ft mixed-use scheme on Tottenham Court Road, designed by Stiff + Trevillion.
In August 2021, leading law firm Travers Smith were signed to pre-let 158,000 sq ft at Stonecutter Court, where CO—RE is managing the tp bennett-designed redevelopment on behalf of Ivanhoé Cambridge and Allianz Real Estate.
In October 2021, CO—RE's secured planning permission in the City of London for the 600,000 sq ft redevelopment of River Court and the renovation and opening to the public of the Grade II* listed Daily Express Building at 120 Fleet Street, designed by BIG.
Currently, plans have been submitted for 72 Upper Ground, where CO—RE is working with Mitsubishi Estate on the Make-designed 600,000 sq ft landmark redevelopment of the former ITV studios on the South Bank.
Baker previously founded and headed the central London tenant representation team at Knight Frank, where he advised major organisations on some of London's largest office deals, including Estée Lauder's HQ at 1 Fitzroy Place, Swiss Re's acquisition of The Gherkin, Guardian Media Group's headquarters at King's Cross and M&G's offices at 10 Fenchurch Avenue.
In his new role as Executive Chairman, Ainsworth will continue to actively work with CO—RE's clients and be involved in all key projects. During his tenure, Ainsworth has led CO—RE as it has advised on over 12.5 million sq ft with an investment value of over £10bn. He has been responsible for a large number of significant central London schemes including 20 Ropemaker, Watermark Place and LSQ London.
Ainsworth is the immediate past President of the City Property Association and a Board Member of the London Property Alliance.
The CO—RE team has grown significantly in recent years in support of its growing portfolio and in 2021 it has made a number of strategic hires, which include Jonathan Walker, associate director; Alex Parsons, senior development manager; and Dolunay Dogahan, assistant development manager.
David Ainsworth commented: "Bradley is one of the most respected names in the central London office market. He has been central to our occupier-first, high-quality design approach to development in recent years. Bradley's unrivalled experience will continue to drive our success in leading our clients through a changing landscape and delivering best in class buildings. We are grateful to Chris for both his part in countless key London developments and for the incredible wealth of experience that he has brought to CO—RE and our clients over the past two decades."
Bradley Baker commented: "From securing some of the largest pre-lets in the UK commercial property market to securing one of the most sought-after sites in central London with the purchase of ITV's historic studios on the South Bank, CO—RE has many significant recent achievements to celebrate. As we look ahead to the next chapter, I am looking forward to working alongside David and the wider team at CO—RE to deliver the best offices in London with a focus on collaboration, sustainability and wellbeing. Occupiers are now more discerning than ever before and their requirements have never been more complex. CO—RE's track record and expertise puts us in a strong position to respond to and benefit from these market trends."